Your Premium COB Certified Course Package includes:-
First-class face-to-face training with expert(s)
High-quality training materials - Exclusive classroom training book + 6 powerful workbooks
Attendance certificate
6 months course content support
Exam administration and qualification certificate (for those passing their exam)
Public classroom courses are delivered by our Licensed Training Providers (LTPs)
The standard guide price is $6,795 (USD) / £5,250 per course place
For on-site cuurses of 8 persons: from $29,000 (USD) / £21, 850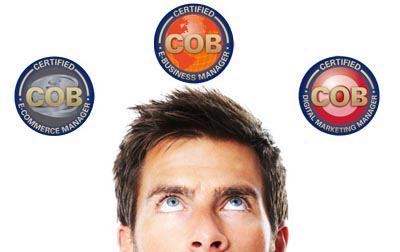 Get Training Courses at Your Offices!
All our 5-Day COB Certified Programs are available as in-house options and deliver additional value by allowing more focus on your organisation, customers, competitors and strategy.
Case Studies
These examples are courses delivered by the creator of the COB Certified Series of Programs, our President Deborah Collier. With the on-boarding of 'Licensed Training Providers', we will be looking at ways to showcase their case studies.

Get interdepartment training with the COB Certified E-Business Manager Program
| | |
| --- | --- |
| | Have you considered a team learning experience to allow focus on your business, online offering, team and customers? The COB Certified E-Business Manager will help your departments work together effectively to achieve online success. |
There are a number of benefits to your HR Management, Marketing, E-Business, E-Commerce, Web and IT staff:-
Gain expert knowledge and insights about online business
Learn how to apply new and existing knowledge to successful e-business
Focus on your organisation and gain instant feedback
Plan for upcoming projects
Discover how your teams can work together - Effective roles and responsibilities - Dealing with change, enabling team collaboration and effective communication for successful online business.
Career development - Qualification in e-business