Where can you buy the COB Certified E-Commerce and E-Business Manager Self-Study Course Box Sets?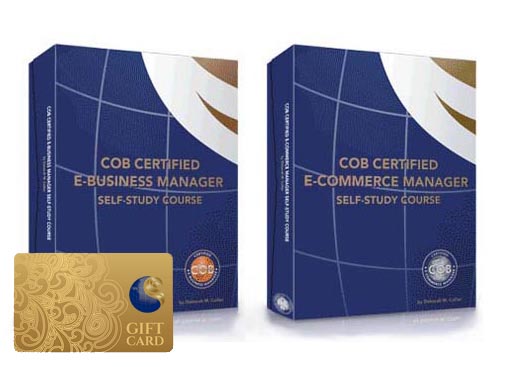 The Certificate in Online Business UK Online Shop
Our UK online store sells our self-study course box sets (with exclusive add-on options). We sell both to individuals and in volume to corporate learning and development departments. We offer FREE shipping on all our products, and we also sell gift cards for both e-learning only courses, and box sets. Our UK Store sells in British Pounds.
COB Certified E-Commerce Manager Self-Study Course Box Sets
COB Certified E-Business Manager Self-Study Course Box Sets
COB Certified E-Business + E-Commerce Manager Extension Kit - Exclusively from our UK Online Store
Exam Administration Fee Options - Exclusively from our UK Online Store

Gift Cards - Part of full value of box sets
Gift Cards - E-Learning Only Courses
Bulk Ordering of Box Sets

Other Retailers
Our COB Certified E-Commerce & E-Business Manager Self-Study Course Box Sets are also listed on the following retailer web sites:
Amazon - Globally
Waterstones (UK) - Online & In-store
Abe Books (USA)
Bokus.com (Sweden)
Akademika.no (Norway)
Bokkilden.no (Norway)
Please note that these retailers do not sell the additional add-ons such as the COB Certified E-Commerce Manager Extension Kit or Exam Administration Fees
Self-Study and Online Courses
Get 90-days access to around 25-hours of powerful e-learning access with these following leading self-study courses:-